iHealth Labs Inc. designs mobile personal healthcare products that connect with the cloud. The products are easy-to-use in a way that consumers can accurately measure, track, and share a full range of health vitals. By automatically connecting the info through the cloud, consumers are able to see a comprehensive view of their vitals and conveniently share information with healthcare professionals or their loved ones. With a mission to provide easier and healthier life to individuals, iHealth Labs has successfully developed many devices like –
Pressure level monitor
Blood sugar monitors
Body analysis scales
Pulse oximeters
Activity and sleep trackers.
All iHealth products sync directly with a free mobile app that simplifies comprehensive monitoring, viewing, storing, and sharing of health vitals.
Why Choose iHealth Remote Patient Monitoring?
iHealth Labs inc help and empower people to manage their chronic conditions by providing Chronic Care Management and Remote Patient Monitoring programs. iHealth lab utilizes hardware and software alongside a physician-centered unified care team to provide a well-rounded care plan to help patients in clinics and at home.
Technology Empowered Teleclinic
Physician-Centered Care Team
Integrated Patient-Centered Care Delivery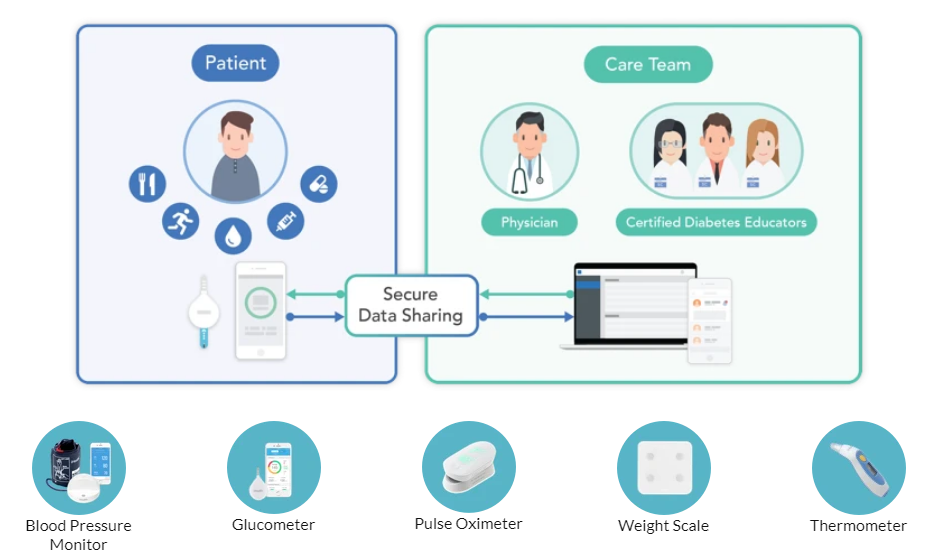 iHealth MyVitals
Automatically track and manage your key health vitals all in one place. The sleek, user-friendly screens make it simple and easy to quickly take measurements using your iHealth devices. Your health information is automatically stored in the app in a fun and easy to read format. This mobile health app provides instant access to your measurements and allows you to see how you are doing versus goals.

iHealth Gluco-Smart
The iHealth Wireless Smart Gluco-Monitoring System lets you measure and record your glucose levels using a portable glucose meter and your Bluetooth-enabled mobile device. The first system of its kind and great for traveling, it includes a sleek meter with an easy-to-read LED display. It's fast, too, taking measurements and delivering accurate results in just five seconds.