Asthma Spacers
By Taikhum Sadiq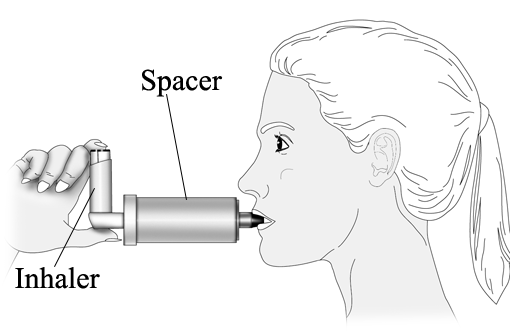 An asthma spacer is a device used that increases the ease of administering aerosolized medication from a metered-dose inhaler (MDI). The spacer adds space in the form of a tube or a chamber between the can of medication and the patient's mouth, thus allowing the patient to inhale the medication by breathing in slowly and deeply for five to 10 breaths.
To properly use an inhaler without a spacer, a person has to coordinate a certain number of steps in a set order (pressing down on the inhaler, breathing in deeply as soon as the medication is released, holding your breath, exhaling), and not all patients are able to successfully complete this order. Hence , using a spacer avoids such issues. Spacers also slow down the speed of the aerosol that comes from the inhaler. Because of this, less medication is needed for an effective dose to reach the lungs, and there are fewer side effects. There are valves on a spacer (which technically makes it a holding chamber) that make the patient inhale the contents of the spacer, but exhalation goes out into the air. The problem of coordinating a breath with a press of an inhaler is avoided, which makes its use easier for children under five and the elderly also.
Use of spacers may also reduce the risk of developing a yeast infection, known as oral thrush. Alternatively, rinsing the mouth after application of inhaled steroids will prevent oral thrush as well.